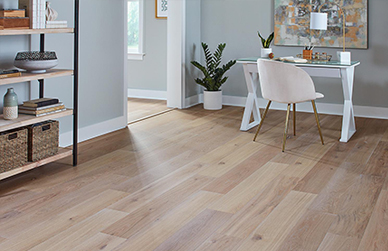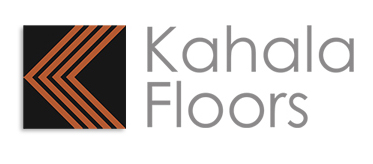 Contemporary Engineered Collection
Engineered Wood
Engineered wood flooring was developed to be more stable than solid wood. So, it could be installed in areas with higher moisture content like a basement or kitchen without warping. On the surface, it looks almost identical to hardwood but instead of a single wood plank, it's made of a high-quality plywood core with a relatively thin layer of hardwood on top. The top wear layer of wood can be anywhere from 1mm to 5mm thick. The thicker the wear layer, the more times it can be refinished. Therefore, a 4mm wear layer or greater can be a 'lifetime' product just like a traditional solid wood floor. The plywood base gives the floor greater stability than solid wood flooring. Engineered wood is stable enough to be installed on-grade, below grade, and in more humid areas. Due to its stability, it can even be floated instead of glued down, like a laminate floor.
Engineered Wood Flooring available is a variety of domestic and exotic species.
4mm wear layer
5/8" x 5" x random lengths up to 4'
9-ply Baltic birch wood
Four-sided Micro Bevel
7 layers of UV-cured polyurethane with aluminum oxide
Smooth, Satin Finish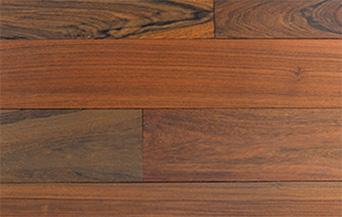 Ipe (Brazilian Walnut)
Origin: Central and South America Janka Hardness: 3620
Ipe is one of the hardest wood species, it's excellent in high-traffic areas and often used as decking. There aren't many species denser and stronger than Ipe Hardwood flooring. Its dense cell structure serves as a natural deterrent to termites and molds, ensuring that your floor will last long. Not only known for its durability but also for its high color variation; including medium-chocolate brown, deep reds, as well as olive tones. Its natural graining includes straight and irregular patterns, creating a one-of-a-kind visual for your space.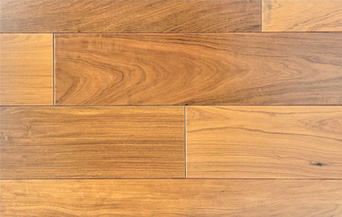 Lapacho
Origin: Central and South America Janka Hardness: 3620
Lapacho, a Paraguayan Ipe offers all the same qualities as Ipe. Visually, they're very similar except Lapacho has less color variation, much less red, and more olive tones. Many customers that like a walnut floor love Lapacho because it looks like a walnut floor but it's 3 times more durable.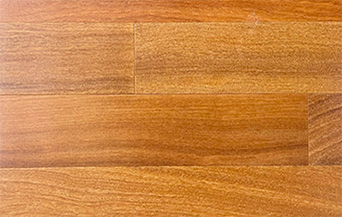 Cumaru (Brazilian Teak)
Origin: Central and South America Janka Hardness: 3540
Cumaru is another very hard exotic wood species. It has an irregular, wavy, interlocked grain and colors including light-medium browns and honey gold. Over time, with exposure to light, the range of colors will even out and makes for an even more uniform appearance in color. For that reason and its durability, it has remained our best seller for many years.
Jatoba (Brazilian Cherry)
Origin: South America Janka Hardness: 2820
Jatoba is known for its deep red color variation and durability. The coloring tends to include reddish with brown tones and some lighter or blonde color. Due to its photosensitive nature, the brown and blonde shades will get redder with exposure to light quite quickly. Jatoba was extremely popular and sort of ushered in the use of exotic species for wood flooring. While it's still well-liked, it has fallen out of favor with so much grey being used in home décor.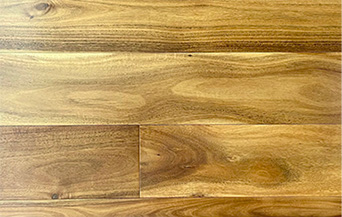 Acacia (Small Leaf)
Origin: Central and South America Janka Hardness: 2250
Acacia (small-leaf) possesses an unmistakable assortment of colors ranging from dark browns to caramel, light yellows, and even some vibrant red browns. Small-leaf Acacia has a distinct character and hardness not to be confused with the many other Acacia species that do not. At times confused for Hawaiian Koa, Acacia makes the perfect affordable alternative for those seeking out Koa.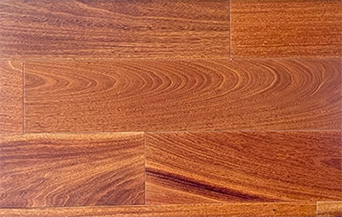 Santos Mahogany
Origin: South America Janka Hardness: 2200
Santos Mahogany has a refined appearance with a tight, interlocked grain. Color variations in this exotic hardwood species tend to be a deeper orange to a darker red-brown color. For a reddish-colored wood, Santos Mahogany is much less photosensitive than Jatoba, Doussie, and Tigerwood. Customers that have a lot of sun coming in to their home will appreciate that characteristic.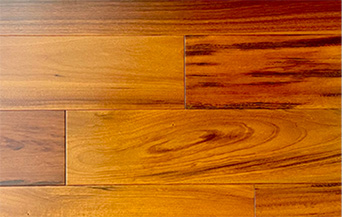 Tigerwood
Origin: South America Janka Hardness: 2160
Tigerwood's graining is what makes it so unique and easy to identify. Initially, tigerwood is a pale gold or blonde in color with dark, thick striping. Usually, 30-40% of the boards will feature dramatic striping. This is another species that is quite photosensitive and will change to a deeper golden-red tone making the stipes also recess a bit.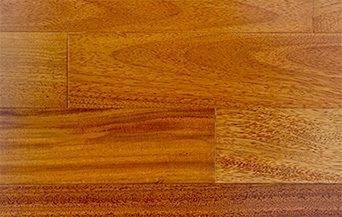 Doussie
Origin: Africa Janka Hardness: 1770
Doussie has been compared to both mahogany and teak for its attractive appearance. Doussie is not widely available in flooring but has been well received. It has medium golden color with light variation. This wood is also photosensitive and will darken over time much like other exotic woods with gold-red coloring.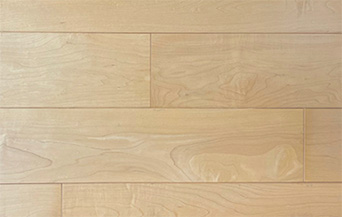 Maple
Origin: North America Janka Hardness: 1450
Maple is one of the hardest domestic hardwood species, making it perfect for high-traffic spaces—think Basketball courts and bowling alleys! Maple's color has a warm hue and is typically a very pale, creamy white color with light shade difference between boards. The graining is also very light and sometimes not even noticeable. Perfect for a timeless, light, and clean look floor.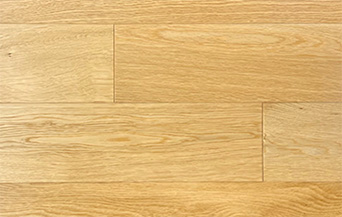 White Oak
Origin: North America, Europe Janka Hardness: 1360
White oak is one of the most popular domestic species of wood and has recently increased in popularity. This domestic wood is durable and very popular for residential applications. White oak starts as an ashy light beige color with medium brown grain patterns that vary from one board to the next. These grain patterns tend to mellow out as the wood ages. Oak is very diverse; it can look traditional, rustic, and contemporary with the aid of stains, whitewashes, and texture treatments.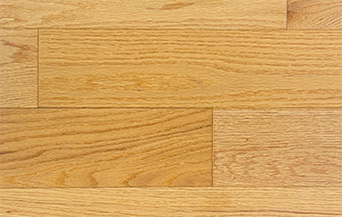 Red Oak
Origin: North America, Europe Janka Hardness: 1260
Red oak was the most common wood flooring for many years. Its warm tones range in color from creamy pink and golden red to rusty brown. It also is known for having visible graining and color variations from plank to plank. Just like white oak, red oak takes stains and whitewashing well.
OUR PARTNERS
We recognize that our customers have varying tastes and different requirements, so we are pleased to offer these excellent alternatives. To examine samples, click on each logo